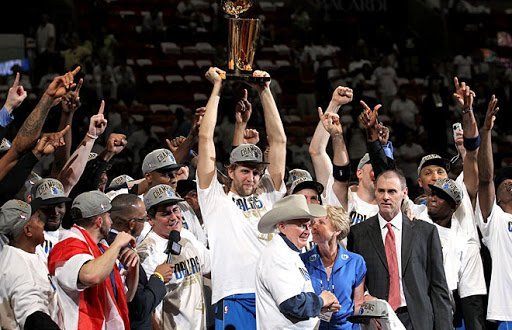 Such a great feeling indeed for Dirk Nowitzki to hold that stunning and shiny NBA championship trophy for the first time. American Airlines Area in Miami, Florida just can't help the Mavericks from celebrating in their own court as Game 6 ended with 105-95 against Miami Heat. The Mavs managed to dominate the court since Game 4 and even though the winning game was inside the court of Miami, they sustained the pressure and persevered until the end to claim their much anticipated title.

Dirk Nowitzki has been declared as the Finals MVP who had contributed 21 points and 11 rebounds for the team. Their top scorer has been Jason Terry with 27 points. These two players finally had their revenge when Miami Heat defeated them in the Finals of 2006 season.

"This is unbelievable," Nowitzki proudly said. He will be turning 33 next Sunday and the season might be his last before the usual age of retirement. "We are a resilient bunch. This team has come back from huge deficits all season long," he added.

This year's NBA Finals has been similar to that of 2006 which also ended after 6 games but the difference is the winner this time is already the Mavericks.

Miami's Lebron James on the other hand ended with 21 points and Dwyane Wade finished with 17 points, eight rebounds and six assists. Their points weren't that enough to win the game for the possible ultimate NBA season reaching game 7.

"Hats go off to Dallas. There is an emptiness to it. It was a tough series. Sometimes you just come up short. Crunch time needed to be done, they made bigger plays than us, said Heat coach Erik Spoelstra.

Read more...