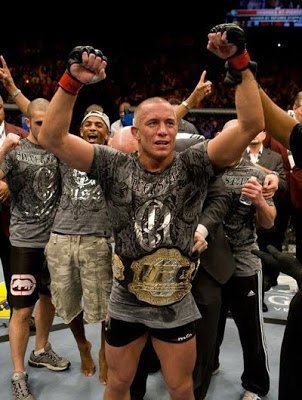 The entire Toronto closely watched the much awaited fight of their very own mixed martial arts legend Georges St. Pierre as he defends his welterweight title against Jake Shields. The latter has been undefeated in his last 15 fights and has been eyed as a great threat to St. Pierre.
MMA betting
and all the latest news, odds and stats from WilliamHill.com - Start Now!
Shields is ranked 7th pound-for-pound fighter in the world by Sherdog, as well as the number 4 welterweight fighter. He defeated Martin Kampmann in UFC 121 in Anaheim,California October 23 of last year.

Their fight ended with a unanimous decision over Jake Shields as the judges scored 50-45, 48-47, 48-47 for St-Pierre. He proudly defended his much loved title that he has been holding since 2007. He kept the fight on his feet and managed to control the entire match in his control despite the eye injury that he obtained in the second round. St. Pierre ended the fight bloodying Shields' nose with jabs and rattling his jaw with right crosses and a roundhouse kick.

He apologized to the fans who has been expecting a knockout. "I'm sorry for the fans," he said. "I wanted to make a knockout or a decision."

A co-main event also made UFC 129 a historic one when the Hall of Famer Randy Couture just had his last fight. He wasn't that successful though in ending his career victorious as Lyoto Machida knocked him out with a strong flying kick to the face at 1:05 in the first round. Fans continued giving him praise as he left the octagon.

Read more...