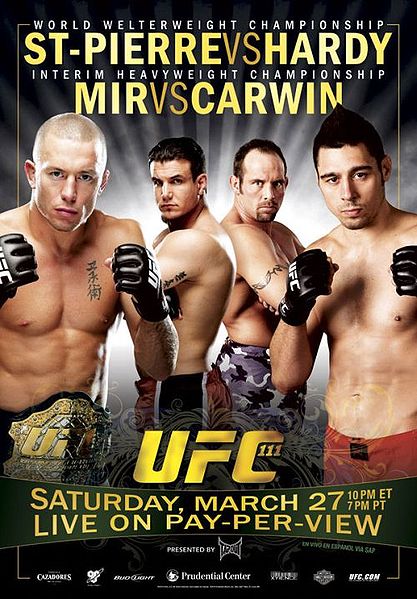 Oh well, tomorrow will be another Saturday night of sweat and blood in the UFC arena as we will live stream once again another UFC event. I admit I almost forgot to post about this, good thing there are a lot of SLB loyal readers who e-mailed me about UFC 111.
36 hours from now, the most awaited UFC event this 2010 will begin. I know you all know that tomorrow night, two world titles is at stake. One is the Welterweight Championship belt and another one is the Interim Heavyweight Belt.
If it's your first time here and you don't know how the live stream works here, you can read our previous posts on our previous successful UFC live streaming events.
UFC 110
,
UFC 109
,
UFC 108
,
UFC 107
and the free live stream of the rest of the relic UFC events were all successful. We always do our best to deliver.
UFC 111 Live Stream will be another one hell of an exciting live stream event as one of the featured match has an undefeated fighter. Shane Carwin, the undefeated Engineer will face a two-time Heavyweight world champion, Frank Mir. I fearlessly predict that Shane Carwin can easily knock out Mir even if it's his first attempt for the championship belt. I strongly believe that he can and will be able to get the UFC Interim Heavyweight Belt tomorrow night.
On the main event, we all know that Dan Hardy is a great UFC fighter, but I place my bets on Georges St-Pierre. This is based on my clairvoyant ability and intuition and I really really know that St-Pierre will be victorious tomorrow night.
So to everyone and to all our loyal readers, visitors and passers-by, just come back here tomorrow night to watwch UFC 111 live stream as we'll be posting the live streaming instructions for you to be able to watch UFC 111 for free.
UFC 111 will be streamed live from Prudential Center in Newark, New Jersey, United States. SLB is your home for free streaming if you can't afford the $49.00 USD Pay-Per-View fee from Yahoo Sports.
Enjoy the free access to unlimited
testking 642-813
resources prepared by our certified team so you will pass real exam on time. Boost up your expert knowledge using
testking 70-680
dumps and
testking 70-640
study guide.
Once again, see you all tomorrow and we will do our best to stream the 111th Ultimate Fighting Championship.
UPDATE March 27, 2010 9:45PM EST:
A few minutes from now, the live stream of UFC 111 will finally begin. Just hang on and we'll update this post a few minutes from now.
UPDATE March 27, 2010 9:47PM EST:
We are currently doing a final test on our live streaming channels. UFC 111 live streaming instructions will be posted here. Stay tuned. Don't forget to refresh your page to see the latest updates.
UPDATE March 27, 2010 9:53PM EST:
[Live Stream is now offline, SopCast channel removed]
In order to view that SopCast channel and you don't have a SopCast client yet, you need to download the software
here
. (Guaranteed safe and virus free, trust me)
To watch live streaming of UFC 111 via Sopcast, you need to install the downloaded software. Unzip it first then double click Setup-SopCast-3.0.3-2008-4-30.exe. After you've installed it, run the application. Login as anonymous (You can also login using your username and password if you have a Sopcast account) then paste the SopCast channel URL that I've mentioned above.
Just be patient until the live stream starts. You can only view random MMA fights before the actual live
stream. Rest assured that UFC 111 live stream will start at 10:00PM ET, 7:00PM PT, 9:00PM CT.
UPDATE March 27, 2010 9:57PM EST:
I think we're right on time. We currently have 43 viewers, we need more so that the stream will buffer faster.
UPDATE March 27, 2010 9:58PM EST:
Others are experiencing lag and slow buffer of the live stream because there were only a few viewers who are accessing the stream. SopCast is a P2P client, so the more users who watch the stream, the better and faster the stream loads.
UPDATE March 27, 2010 10:01PM EST:
Now the stream seems to load faster. Thanks for watching guys and let's get ready to rumble!
UPDATE March 27, 2010 10:05PM EST:
To others who cannot access the stream, try this alternative SopCast channel: [
Live Stream is now offline, SopCast channel removed]
UPDATE March 27, 2010 10:15PM EST:
For those who's trying to access the channel before, try accessing it again now. It works just fine. Trust me.
UPDATE March 27, 2010 10:18PM EST:
Miller defeated Bocek via unanimous decision in the first main fight card (Lightweight Bout). Live Streaming right now is the Welterweight bout of Jon Fitch vs. Ben Saunders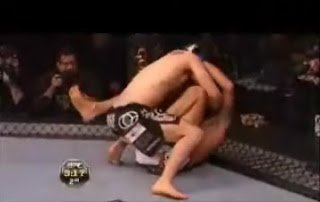 UPDATE March 27, 2010 10:22PM EST:
The Welterweight bout of Fitch and Saunders is pretty bloody. Anyway, Fitch defeated Saunders via unanimous decision. Now we're on to the Lightweight bout of Kurt Pellegrino vs. Fabricio Camoes.
UPDATE March 27, 2010 11:11PM EST:
Pellegrino defeated Camoes via submission (rear naked choke) at 4:20 of round 2 and Carwin defeats Mir by KO at 3:48 of round 1. As what I predicted, Carwin will easily defeat Mir. Now we're on to the main Welterweight event, Hardy vs St-Pierre.
UPDATE March 27, 2010 11:31PM EST:
Others are complaining that they cannot watch the stream. Please be patient. You need to stay on the stream so that it will buffer faster. The more users who watch the stream, the better and faster SopCast will buffer. Both channels are online now showing the Welterweight match of Hardy and St-Pierre.
UPDATE March 28, 2010 12:01AM EST:
It looks like Dan Hardy's pretty tired and will be defeated by GPS.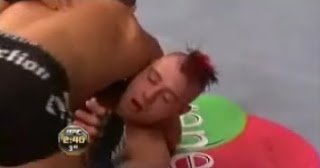 And here's another angle. Dan Hardy will be defeated in 3, 2, 1...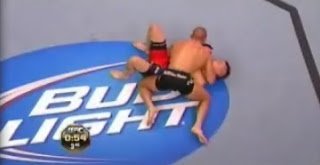 After a few seconds, here's what happened.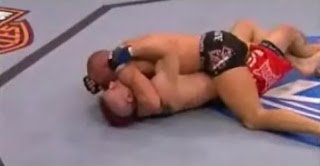 Let's wait for a few more seconds. I think George St-Pierre will win UFC 111.
UPDATE March 28, 2010 12:05AM EST:
Georges St. Pierre defeated Hardy via unanimous decision (50-43, 50-44, 50-45). Replay videos will be uploaded soon.
UPDATE March 28, 2010 12:24AM EST:
UFC 111 replay videos now available in MixedMartialArtVideos.com. Check it out below:
1.
Frank Mir vs Shane Carwin Fight Video
2.
Georges St-Pierre vs Dan Hardy Fight Video
Read more...