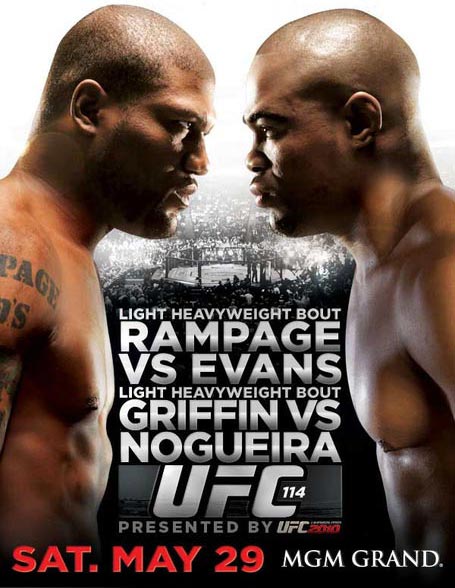 A few hours from now, UFC 114 live stream will finally begin. This is the second UFC for the month of May this year 2010. This will be another epic battle, as a lot of UFC fans said. Quinton "Rampage" Jackson will face Rashad Evans in the main event of the 114th Ultimate Fighting Championship.

We have successfully streamed a lot of UFC events and Boxing events, and we're pretty sure that UFC 114 will be another successful live streaming event.

Rampage is an experienced UFC fighter with 7 loses, while Evans was only defeated once. This fight card is surely one of the most anticipated fight cards in the history of UFC. We all know that Rampage is a tough fighter and he will never let his number of defeats add up. Evans is a tough fighter as well and he will do his best to defeat Rampage.

I'm really not sure who will win this time. In UFC 113, I predicted that Lyoto Machida will win because I'm pretty sure that he will never let his undefeated record by ruined, but my prediction was wrong. Shogun proved that he's better than Machida even if he was defeated before.

In tonight's UFC, Rashad Evans has a great chance to defeat Rampage. Evans only fought 16 times, with 14 wins. He has 1 loss and 1 draw. On the other hand, Rampage has a total of 37 fights, with 30 wins, and 7 losses.

If we base the chance of winning in their MMA experience, Rampage will surely win tonight's main event. But if we base it to the number of losses, Evans has the edge to win and be the number 1 Light Heavyweight contender for the championship belt.

The winner of this Light Heavyweight bout will be the #1 contender for the UFC Light Heavyweight Championship, and will face Mauricio "Shogun" Rua, instead of Lyoto Machida. I'm really waiting for the Rampage vs Machida match, but I guess that bout will not be possible by this year.

Another interesting bout is the Forrest Griffin vs Antônio Rogério Nogueira Light Heavyweight match. But sadly, it was cancelled. This is because Griffin withdrew due to a shoulder injury. Nogueira will still be present in UFC 114 and will face Jason Brilz.

Before I end, I would like to predict that Todd Duffee will have another KO victory tonight. He will easily defeat Mike Russow in the Heavyweight bout of UFC 114. This is a sure win for Todd Duffee because I know he's incomparable and too powerful for Russow. He has the potential to be the next UFC Heavyweight champion. His record is an impressive 6 wins, and all of them are by KO. He is undefeated and will remain undefeated in the years to come.

Duffee is also the holder of an awesome world record. He has the fastest recorded knockout in UFC history. He knocked out Tim Hague in UFC 102 on Round 1 at 7 seconds. Isn't it awesome? Based on this MMA record, almost all of his wins were KOs in Round 1, only one knock out was in Round 2.

Right now, I'm confident that Russow will be defeated by Duffee by KO in less than a minute on Round 1, or else, I'll kill myself. Haha!

So much for the boring introduction, let's all watch UFC 114 live stream tonight and support our favorite UFC fighters. We'll be posting the live streaming instructions tonight for you to be able to watch the live stream of UFC 114 for free.

Just return to this page at exactly 7:00 PM Pacific Time, 10:00 PM Eastern Time, and 3:00 AM GMT. If you're from a country with a different time zone, just host an online time zone converter to know what time exactly will the live stream start.

Download the best quality testking N10-004 video tutorials and testking 640-822 simulation to prepare and pass the real exams on time. Get guaranteed success in exam using testking 70-649 resources.

UFC 113 Live Blogging Updates



UPDATE May 29, 2010 8:20 PM ET: We are currently preparing and doing a final testing on our live stream channels, stay tuned for more updates.

UPDATE May 29, 2010 8:33 PM ET: [UFC 114 Live Stream is now offline, the live streaming instructions has been removed]

UPDATE May 29, 2010 8:36 PM ET: Streaming of preliminaries has just started. The main event will start after a few hours. Just be patient, because surely all of us can watch UFC 114 live stream for free.

UPDATE May 29, 2010 10:15 PM ET: The Welterweight bout of Diego Sanchez vs. John Hathaway has just begun.

UPDATE May 29, 2010 10:21 PM ET: Currently, we are in the 2nd round of the Diego Sanchez vs. John Hathaway bout. I hope this match will end because it's pretty boring. I wanna watch Todd Duffee!

UPDATE May 29, 2010 10:35 PM ET: Oh great! The boring match has ended and Hathaway won! Hathaway defeated Sanchez by unanimous decision (30-27, 30-27, 30-26)

UPDATE May 29, 2010 10:41 PM ET: I'm also not a fan of the next update. I'll just update you guys with the result after this Light Heavyweight bout is finished.

UPDATE May 29, 2010 11:10 PM ET: Nogueira defeated Brilz via split decision (28-29, 29-28, 29-28). Geez, that was too close!

UPDATE May 29, 2010 11:13 PM ET: The live stream went offline for a bit, but it's now back online. Enjoy the matches tonight!

UPDATE May 29, 2010 11:21 PM ET: Todd Duffee is now facing Mike Russow. I was surprised the Russow reached Round 1 against Duffee. This means Russow is a really tough opponent.

UPDATE May 29, 2010 11:32 PM ET: We are now on the 3rd round of the Duffee vs Russow match! This is exciting! I can't wait to see who will win. It seems that Duffee had a really hard time knocking out Russow, oh my.

UPDATE May 29, 2010 11:35 PM ET: Wow! People in the UFC arena are standing right now! This is a standing ovation! It seems like Todd Duffee was defeated via KO by Mike Russow! This is surprising! Mike Russow won by knock out on Round 3! My bet was wrong and my prediction was wrong.

UPDATE May 29, 2010 11:42 PM ET: The next match is about to begin. And after this, the main event!

UPDATE May 29, 2010 11:55 PM ET: Dan Miller vs Michael Bisping Middleweight bout has just started! Let's see who wins this match. Bisping in Green/White and Miller in Black.

UPDATE May 30, 2010 12:09 AM ET: The middleweight bout is finally over! Bisping defeated Miller via unanimous decision! Now let's get ready for tonight's main event! This is gonna be terrific!

UPDATE May 30, 2010 12:27 AM ET: Let's get ready to rumble guys! Rashad Evans and Quinton "Rampage" Jackson are inside the arena! Any moment from now, Round 1 of this Light Heavyweight bout will begin! Who's your bet?

UPDATE May 30, 2010 12:28 AM ET: Round 1 of Rampage Jackson vs Rashad Evans has started! This is it guys! The moment that all of us have been waiting for!

UPDATE May 30, 2010 12:34 AM ET: It seems like Rampage is pretty tired right now and Evans has the advantage of winning this bout. 20 seconds left before Round 1 ends!

UPDATE May 30, 2010 12:35 AM ET: Round 1 has just ended. Round 2 is about to begin. Rampage seems so tired. I hope he can recover in Round 2.

UPDATE May 30, 2010 12:47 AM ET: We are now on the 3rd round of the event. I think this is gonna be a unanimous decision.

UPDATE May 30, 2010 12:50 AM ET: It's over! Rashad Evans won via unanimous decision! Replay videos of UFC 114 fights will be available later. Have a nice weekend guys! See you guys on UFC 115! Don't forget to bookmark sportsliveblogger.com so that you can return here easily next time!



UFC 114 Replay Videos:
1. Quinton "Rampage" Jackson vs Rashad Evans Fight Video
2. Michael Bisping vs Dan Miller Fight Video
3. Antonio Rogerio Nogueira vs Jason Brilz Fight Video
4. Todd Duffee vs Mike Russow Fight Video

Read more...