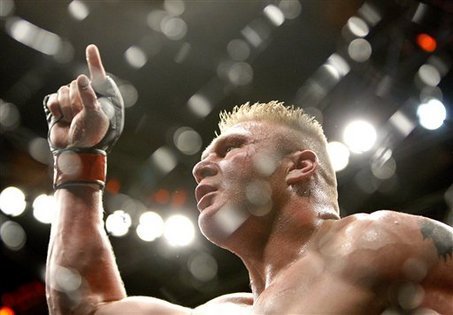 Despite the rumors and some blurry facts about Brock Lesnar considering to leave UFC for good, he will never leave. This was clarified by Dave Meltzer of Yahoo Sports.
Lesnar has been reconsidering his MMA career following the first round TKO defeat against Cain Velasquez this past October, according to Meltzer. Before that humiliating loss, Lesnar was manhandled by Shane Carwin throughout the first round before turning the world upside down against Carwin and earning a submission victory in the second round.

Meltzer also added that Lesnar has lost all courage and motivation to compete in UFC and has not spoken with Dana White or anyone in Zuffa, LLC. since he was defeated by Velasquez.

Based on various reports from several sports blogs and websites, Brock Lesnar will temporarily join WWE for a reported $2 million USD payday to wrestle the Undertaker at WrestleMania 27. Isn't it awesome? The Undertaker vs Brock Lesnar!

As of now, there's no news about when will be Lesnar's next UFC bout, but I'm sure there will be one in the near future.

So to all Brock Lesnar fans, don't be sad, the rumored news is not true anymore. Lesnar will continue his UFC career even if he's not undisputed anymore.

Read more...