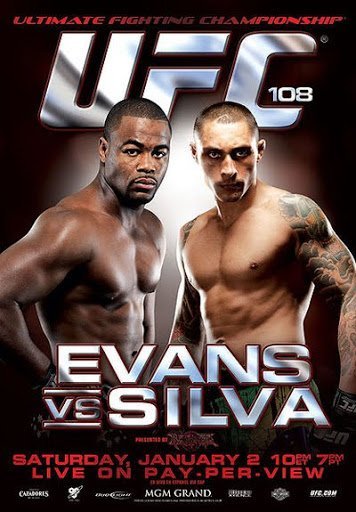 UPDATE 04/04/2010:
The embedded video was removed because it's not working anymore. If you haven't seen the replay yet,
here's a reply video
that you can download in FLV format. You can play it using VLC media player. Enjoy!
There are also real replay videos of UFC 108
here
. Courtesy of osuchin.tk.
Here we go again for another free live stream of the Ultimate Fighting Championship. UFC 108 Live Stream will start tomorrow at exactly 10PM Eastern Time and 7PM Pacific Time. With the success of our previous UFC live stream, I really don't doubt that UFC 108 will be another successful live streaming event for all UFC fans around the world.
UFC 108 is yet another amazing UFC episode to watch. This episode will feature really awesome fight cards that we must see.
Here are the main fight cards that's only available in PPV (Pay-Per-View)
- Rashad Evans vs. Thiago Silva
- Paul Daley vs. Dustin Hazelett
- Joe Lauzon vs. Sam Stout
- Duane Ludwig vs. Jim Miller
- Junior Dos Santos vs. Gilbert Yvel

Other fight cards can be seen at SpikeTV, so it's useless to re-echo it here.
Just like what we usually do, check this page tomorrow at 10PM ET and 7PM PT because we'll be posting the instructions of how to watch the live stream for free in your PC.
Download the best quality
testking 640-802
video tutorials and
testking VCP-410
simulation to prepare and pass the real exam on time. Get guaranteed success in real exam using
testking SY0-201
products
Take not that this live stream will only work in Windows PC. If you're a MAC, then too bad for you. Just look for an alternative live streaming site. Or if you know where to watch the live stream of UFC 108 using MAC, please don't hesitate to share it here so that a lot of visitors can benefit on your discovery.
Rest assured that we'll give you credit if you want to share your working live stream links here.
Enjoy the UFC 108 Live Stream tomorrow. We'll keep you posted for more updates! Just refresh this page later to see the latest updates.
UPDATE Jan 2, 2009 3:00PM EST: 5 hours to go before UFC 108 live streaming will start. We are currently preparing the SopCast channels for you to watch the live stream. Come back here later at exactly 10:00 PM Eastern Time to watch UFC 108 live online for free!

UPDATE Jan 2, 2009 9:38PM EST: [LIVE STREAM DETAILS ARE NOW REMOVED. WE ARE OFFLINE NOW. WE'LL BE UPLOADING THE REPLAY LATER TODAY]

UPDATE Jan 2, 2009 9:45PM EST: In order to see what's really going on live, follow UFC on twitter! http://twitter.com/ufc. As of their update 25 minutes ago, the preliminary fights has just started. That's why right now you can see preliminary fights in our live stream. Rest assured once the PPV fight starts, you can also watch it for free in our live stream.

UPDATE Jan 2, 2009 10:33PM EST: If it went back to prelims, just be patient. Rest assured that it will go back to PPV fight cards in less than a minute.

UPDATE Jan 2, 2009 11:17PM EST: Sam Stout recently won against Joe Lauzon in the Lightweight bout of UFC 108. One more fight before the most awaited match between Thiago Silva and Rashad Evans! But before the next main card will be shown, a SpikeTV Welterweight bout of Martin Kampmann vs. Jacob Volkmann will be replayed. So please be patient.

UPDATE Jan 2, 2009 11:53PM EST: Thiago Silva Vs Rashad Evans is about to start in 2 minutes! Great!

UPDATE Jan 2, 2009 11:55PM EST: The Main Event has just started! Go Thiago Silva! Go Rashad Evans! Make this night a big night for all of us! This is it!

UPDATE Jan 3, 2009 12:17AM EST: We're not streaming the 3rd and final round of the main event! This match is exciting! It looks like Rashad Evans is gonna win this fight. But we're not pretty sure of it yet. Let's watch Round 3 now guys!

UPDATE Jan 3, 2009 12:20AM EST: In round 3, it looks like Rashad Evans is pretty tired and Thiago Silva is now taking the game into his own hands! Thiago Silva has the floor now and everybody is cheering for him! Wow! This match will be historic! 30 Seconds left guys!!!

UPDATE Jan 3, 2009 12:21AM EST: 10 seconds and it's now the end of the main event! Nobody was knocked out. The result will be on the hands of our judges. Let's find out who wins UFC 108.

UPDATE Jan 3, 2009 12:22AM EST: The Winner by unanimous decision is Rashad Evans!!!!!!!!!!

UPDATE Jan 3, 2009 12:30AM EST: Rashad Evans vs Thiago Silva Replay Video will be uploaded later. Just refresh this page to see if the download link is already available. Thanks for watching guys! See you on UFC 109!

PS: For free updates, you can
subscribe to our feeds here
using your favorite feed reader.