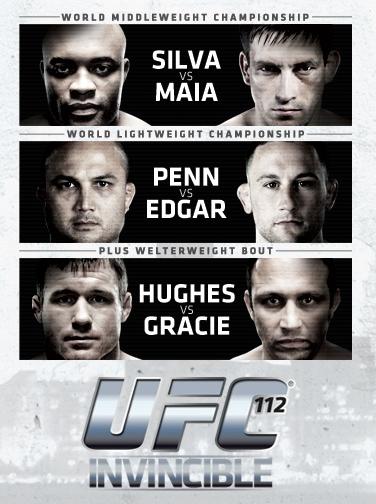 5 hours from now, UFC 112 will start. The exact time of the UFC 112 live stream will be on 1:00 PM Eastern Time, that's 10:00 AM Pacific Time. UFC 112 is a earlier compared to the previous UFC event, because it will be broadcast live from Abu Dhabi, UAE.
We honestly admit that UFC 111 live stream was a disaster and the buffer time was pretty damn slow. We apologize for it, but there's nothing we can do. Our connection was pretty slow and SopCast has seriously technical problems that time.
Anyway, we would like to still thank some of our avid readers for encouraging us to continue this free live streaming thing, even if almost the whole world is mad because they can't watch it for free. Please don't be mad because it's just for free. This is not pay-per-view and we don't ask anything in return for you to watch all UFC live streaming events.
We have tried the survey thing in UFC 109, but it wasn't effective and a lot of readers got annoyed. That's why after 15 minutes of using it, we removed it just for you and only for you.
So please bear with us if we have technical problems. If you noticed that the buffering time is quite slow, you can just Google for alternative resources to watch your most awaited UFC event for free.
But, if you still can't find one, you can still count on us. We cannot promise anything but we'll try out best to deliver.
5 hours from now, the most awaited UFC 112 will begin featuring 3 highlight matches. Silva vs Maia, Penn vs Edgar, and Hughes vs Gracie. Once again, 2 championship belts is at stake and I know that everybody is excited to watch the free live stream of UFC 112.
Come back to this page at exactly 1:00 PM ET, because we'll be posting the instructions of how to watch UFC 112 for free. Rest assured that more updates will be posted within this day. This will be another awesome UFC afternoon for all of us.
Pass the real exam fast using
testking mcdba
dumps and
testking mcdst
other resources. Join
testking mcp
training program to become IT expert.
Enjoy everyone and have a nice weekend. Stay tuned for more updates!
UFC 112 Live Blogging and Live Stream Updates
UPDATE April 10, 2010 12:10 PM ET:
Current local time now is 12:10 PM and we are preparing for the free live stream of UFC 112. We are currently doing final checks to ensure smooth live streaming of UFC 112 directly from Dubai via SopCast. We hope that this live stream will run fast and smooth. If something happens and the live stream won't work for you, you can always look for another website that claims to have a free live stream of the event, it's up to you.
UPDATE April 10, 2010 12:15 PM ET:
55 minutes from now, UFC 112 will start. Just stay on this page of you want to watch the free UFC 112 live stream. If you want to have a better live stream experience, you can always pay $55.00 to Yahoo Sports and watch the UFC 112 via PPV on your PC.
UPDATE April 10, 2010 12:50 PM ET:
10 minutes from now UFC 112 live stream will finally start. Please be patient, any moment from now the instructions and channels to watch UFC 112 live stream will be posted here at SLB.
UPDATE April 10, 2010 1:10PM ET:
[UFC 112 live stream is now offline. Live Streaming instructions were removed]
UPDATE April 10, 2010 1:30PM ET:
The UFC live streaming channels are buffering smoothly. If you have problems or if the instructions didn't work for you, then just go somewhere else or buy a UFC 112 pass at Yahoo Sports!
UPDATE April 10, 2010 1:31PM ET:
The Middleweight bout between Munoz and Grove has just finished. Munoz defeated Grove via TKO (Strikes) at 2:50 of Round 2
UPDATE April 10, 2010 1:45PM ET:
The Lightweight bout of Etim and dos Anjos also laster for 2 rounds. Dos Anjos defeated Etim via Submission (Armbar) at 4:40 of Round 2.
UPDATE April 10, 2010 1:50PM ET:
Now one of the highlight matches of UFC 112 has just begun! Matt Hughes is now facing Renzo Gracie for the UFC 112 Main Card Welterweight bout, let's see who will win.
UPDATE April 10, 2010 2:17PM ET:
The Gracie vs Hughes match has just finished! Hughes defeated Gracie via TKO at Round 3!
UPDATE April 10, 2010 2:57PM ET:
Wow! Everyone was surprised! BJ Penn's belt was taken by Frankie Edgar. Frankie Edgar defeats B.J. Penn by unanimous decision. Frankie Edgar is now the new UFC Lightweight champion of the world! Now let's get ready for the main event!
UPDATE April 10, 2010 3:55PM ET:
What a lousy bout and boring 5 rounds that was. Anyway, Silva won. Anderson Silva defeated Demian Maia via Unanimous Decision. Replay videos of UFC 112 will be uploaded and will be posted here soon. That's all for now. Have a great weekend everyone!
UPDATE April 10, 2010 10:51PM ET:
UFC 112 Replay Videos of highlight matches
1.
Anderson Silva vs. Demian Maia Video
2.
BJ Penn vs Frankie Edgar Video
3.
Matt Hughes vs Renzo Gracie Video