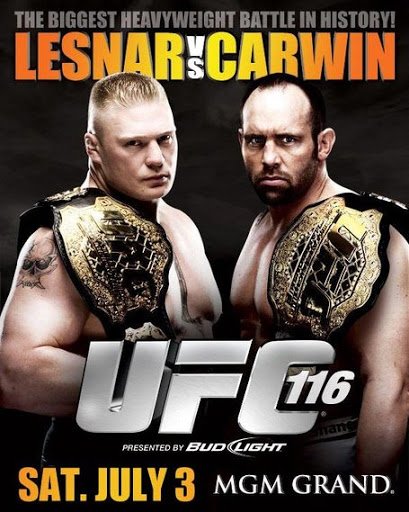 I almost forgot that tonight is another UFC night that everyone is anticipating for. Good thing We've received 71 e-mails asking us if SLB will be live streaming tonight's UFC event. I'm so happy to know that we have loyal readers who are keep on reminding us every month that there's a big upcoming MMA event.

We have also received e-mails that we should also do free live streaming of Strikeforce, UFC Fight Nights, UFC on Versus and WEC. We have that on list and we hope that we can accommodate all of those MMA events within this year.

A few hours from now, UFC 116 live stream will finally begin. Of course, we'll be live streaming this UFC event as this is one of the most awaited and most prestigious UFC Heavyweight Championship events in the history of Mixed Martial Arts.

Brock Lesnar is back! I know you guys have been waiting for his return. Now, he will face the Interim Champion, the reigning Heavyweight champion while he was gone.

I think this match is a breathtaking and must-see match between two of the world's best Heavyweight fighters. Two champions in one arena. Imagine how bloody and eye-popping this match will be.

Shane Carwin will attempt to strip off the championship belt from Brock Lesnar. I'm really not sure how well-prepared Shane Carwin is, but I bet he will give Lesnar a tough fight.

As we all know, this is the first time that these two will face each other in the UFC arena. Shane Carwin is undefeated! He has a total of 12 wins, 7 off these wins are via KO and 5 via submission. He's one hell of a superb UFC fighter, isn't he? Shane Carwin, also known as "The Engineer", has a big chance to defeat Lesnar tonight.

He garnered all of his wins in just 1 round, since WEC 17. I'm pretty sure he will do his best to keep his record clean.

On the other hand, Brock Lesnar was defeated once, but this defeat is not a guarantee that Shane Carwin will win tonight. If you've witness UFC 81, Frank Mir was just lucky to defeat Lesnar. I'm sure you agree with me.

Brock Lesnar has a total of 5 fights with 4 wins and 2 of this wins are via KO. 1 is by submission and one is by decision. This MMA fight record is not that impressive if compared to Shane Carwin. But he's currently the reigning UFC champion, that's why he'll do his best to never be defeated tonight.

Anyway, I'll predict that Shane Carwin will win. Not based on the stats or their previous records, but based on Carwin's fighting style and physical advantage over Brock Lesnar. Lesnar was injured and recently recovered from it. Still, he was injured before and this is one of the main advantages Carwin has over Lesnar.

Carwin is physically fit and well-prepared for this bloody battle, but I'm not saying that Lesnar is not well-prepared for tonight.

Anyway, who do you pick? Lesnar or Carwin? It's your choice, it's your decision to make. Let's just watch UFC 116 live stream tonight and find out what will be the aftermath.

And oh, about the live stream. Just like what we did before, come back here at exactly 10:00 PM ET / 7:00 PM PT as we'll be posting the live streaming instructions, and we'll also do some live blogging updates on every main fight card matches tonight.

Don't forget to bookmark this post so that you can easily come back here later. You can bookmark it in your browser or in your favorite bookmarking sites.

Have a nice weekend everyone and see you tonight!

UFC 116 Live Blogging Updates


July 3, 2010 9:50 PM ET:

We are now doing some final tests on our live stream channels. UFC 116 main event fight cards will start a few minutes from now. Let's get ready to rumble guys.

July 3, 2010 9:52 PM ET:

We'll not do live blogging updates for this UFC event. We'll just post the results later. Anyway, you can watch UFC 116 here just like before.

July 3, 2010 9:53 PM ET:

UFC 116 live stream is about to begin. Live Streaming instructions will be posted on our next update. Thanks for the continues patronage guys!

July 3, 2010 9:55 PM ET:

It seems that we have a problem with our live streaming channels. Hang on guys as we are currently fixing this now.

July 3, 2010 10:25 PM ET:

The live stream is now available via FreeDoCast above. Enjoy UFC 116 guys!

July 3, 2010 10:41 PM ET:

Sorry for the extreme delay guys. Our apologies. The live stream of UFC 116 is now available above. Just right below our website's header. Enjoy all the UFC matches tonight! The live stream is avaiable via ESPN HD.

Once again our apologies for the delay. You can now watch UFC 116 live stream for free.

July 3, 2010 10:49 PM ET:

The freedocast above is not working anymore, so we've removed it already.

July 3, 2010 10:50 PM ET: [The live stream is now offline. Live Streaming instructions are now removed] July 3, 2010 11:05 PM ET:

As for the results update, Sotiropoulos defeated Pellegrino via unanimous decision in the main card Lightweight bout. Bonnar defeated Soszynski via TKO(strikes) at 3:08 of round 2 in the Light Heavyweight bout. We are currently on the Welterweight bout of Chris Lytle vs. Matt Brown.

July 3, 2010 11:21 PM ET:

Lytle defeated Brown via submission (armbar) at 2:02 of round 2. Now let's go to the Middleweight bout of Yoshihiro Akiyama vs. Chris Leben. Akiyama said that this match will surely be the UFC 116 Fight of the Night and he will knock out Chris Leben if he gets a chance. Let's see if Akiyama will really win against Leben after this match!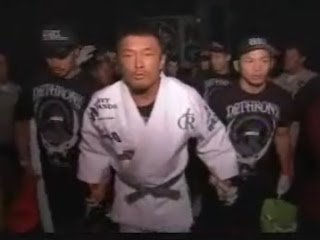 July 3, 2010 11:26 PM ET:
The Japanese Superstar, Yoshihiro Akiyama, is now entering the arena. I think this match is gonna be terrific and exciting as this is the co-main event tonight. After this match, the most awaited Heavyweight battle will begin!
July 3, 2010 11:28 PM ET:
The Middleweight bout has just started!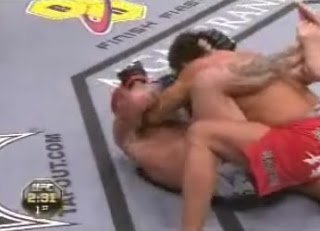 July 3, 2010 11:30 PM ET:
Akiyama seems to take advantage over Leben in Round 1. He's now looking for submission and he's doing his best to stop and knockout Leben.
July 3, 2010 11:31 PM ET:
Great first round for Akiyama! It seems that he's gonna win tonight, but I'm not sure, I'm not an MMA analyst.
July 3, 2010 11:33 PM ET:
Round 2 has just started, let's see what happens now.
July 3, 2010 11:36 PM ET:
Akiyama is trying to finish this fight but Leben is really tough! Everybody is shouting and cheering right now for Leben and Akiyama! 2 minutes and 30 seconds to go for Round 2.
July 3, 2010 11:43 PM ET:
Akiyama stepped away from Leben. These men are battling bigtime! Leben is punching Akiyama over and over again. Akiyama is still standing! This match is unbelievable! Leben took advantage in the 2nd round. The commentators were absolutely astounded in this round. They said that it's awesome and they were surprised that after a number of strong punches, both are still standing! And now let's go to the 3rd round!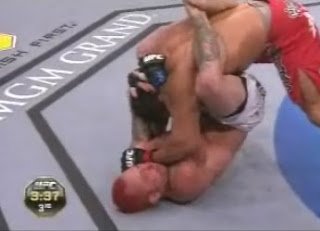 July 3, 2010 11:44 PM ET:
Leben tried to finish Akiyama with his crippling left hand. Let's see what will happen on the 3rd round. Both of them performed well in the previous 2 matches. Akiyama did great in the first round, while the second round goes to Leben.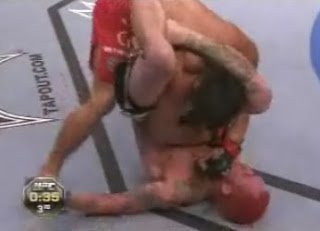 July 3, 2010 11:46 PM ET:
Chris Leben just won! What a victory! What a battle! I bet this is gonna be the fight of the night! Everyone is standing and cheering for Chris Leben!
July 3, 2010 11:53 PM ET:
Now let's go to the main event! Brock Lesnar vs Shane Carwin will finally begin after a few minutes!
July 4, 2010 12:04 AM ET:
It's now the 4th of July and both are now entering the UFC arena. This Heavyweight battle is gonna be one hell of a show!
July 4, 2010 12:07 AM ET:
This is frustrating. The stream just stopped in the main event. We're currently looking for alternatives. Hang on.
July 4, 2010 12:08 AM ET:
And we're now back online! Just click the STILL button, and click the PLAY button again. It works just fine now.
July 4, 2010 12:13 AM ET:
I think Brock is badly hurt in the first round. Shane Carwin is punching Lesnar over and over and over again. Brock Lesnar can't move and it seems that he's gonna lose tonight! Just like what we predicted.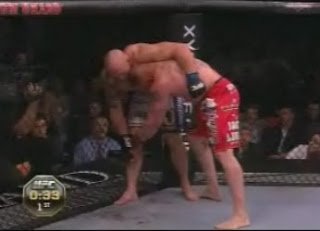 July 4, 2010 12:15 AM ET:
Round 1 has just ended! What a round! Lesnar is the first UFC fighter to survive against Carwin in Round 1. We are now on the second round. Let's see what will happen next. Carwin seems to be exhausted right now.
July 4, 2010 12:15 AM ET:
Lesnar is now on top of Carwin. The world has turn around now. It seems that Lesnar has the edge of winning and keeping his Heavyweight Championship belt!
July 4, 2010 12:18 AM ET:
Brock Lesnar won via submission! Lesnar defeated Carwin via arm triangle choke at 3:52 of round 2.
Wow! What an awesome fight! Lesnar won! This is unbelievable! Lesnar is still the baddest man on the planet! He defeated the undefeated Engineer! He is still the undisputed Heavyweight Champion of the world!
"
This is about my family, this is about my doctors, this is about my training staff. I am blessed by God. I stand before you, a humble champion and I'm still the toughest SOB here baby!
" Brock Lesnar said in an inteview after the main event.
"
Brock Lesnar is tough son of a bitch man!
", Shane Carwin said in an interview.
Next in line is Cain Velasquez, another undefeated Heavyweight fighter. Can he defeat Lesnar? Let's find out in the next UFC event!
July 4, 2010 12:19 AM ET:
Replay videos will be uploaded later.
July 4, 2010 06:19 AM ET:
Thanks to all you guys who left kind comments in this post. Rest assured that we'll continue to provide free live streaming service and give you working live streaming alternatives in the next UFC events to come. And of course, our services will continue to be pop-up free and survey-free. You don't need to waste your time answering surveys or questionnaires just like what you've noticed in other websites that misleads people about free live streaming and get nothing from it. If you want free live updates and free streaming instructions, just bookmark our site or you can
subscribe to us via e-mail for free
!
And oh, thanks to this anonymous guy who left a comment on this post last July 3, 2010 at 10:15 PM. We really appreciate comments like this:
Thanks guys. You could have given up when the Freedocast went down. You didn't have to redirect the stream to sopcast OR try to get the stream back up when it went black. I know I would have given up to watch the fight instead of troubleshooting broadcast issues. But, you got it back on, and you backed the feed to the beginning of the fight. You still don't ask for money or questionnaires for your efforts. I appreciate it. My third time here and I'll be back.
-
Anonymous
Here are the replay videos of UFC 116
1.
Brock Lesnar vs Shane Carwin Heavyweight Championship Match
2.
Yoshihiro Akiyama vs. Chris Leben Middleweight Match
3.
Krzysztof Soszynski vs. Stephan Bonnar Light Heavyweight Match
4.
George Sotiropoulos vs. Kurt Pellegrino Lightweight Match