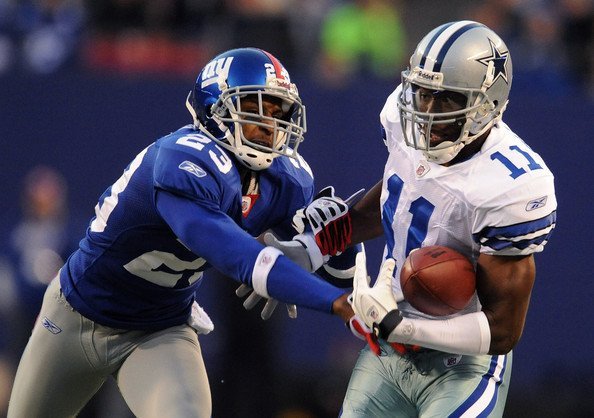 The much aniticipated match between the Dallas Cowboys and New York ended with injuries that defined their future. The event happened Monday night October 25, 2010 at the Cowboys Stadium in Arlington, Texas. The home court edge of the Cowboys didn't work that much. It has been so sad for their to see them defeated in their own grounds. Their match was the last match for week 7 this season.

Eversince the Week 7 started, the Cowboys has been injured filled. Last Thursday, linebacker Stephen Hodge underwent microfracture surgery on his right knee placed on injured reserve.

The game started in favor for the Cowboys in the first quarter wherein they scored 10 points. Not much lead as it is since Giants was able to recover on the second quarter and grabed the lead from the Cowboys and scored 17 and maintained the lead until the end of the quarter with the score of 24 against Cowboy's 20. When the 3rd quarter started, the Giants continued to dominate the game with the score of 14-0 and eventually end up being the number one in the NFC East. This has been their fourth straight win and moved a full game ahead in the division.

Much victory for Giants now, especially for their precious Eli Manning who has played well in the game. He managed to pull out their 13-point deficit to a 41-35 victory. Team mates Brandon Jacobs and Laurence Tines who also contributed much to the victory. Giants' coach Tom Coughlin, has been so proud of the result. "The way we started the game tonight, to be able to come back from that and show the mental toughness was big," he said.

On the other hand, of the Giants are celebrating, sadly the Cowboys are has been on the rocks right yet they remained optismistic. Words has been positive from the seriously injured Tony Romo. "I'm staying optimistic," Romo said. "This football team has a lot of high-character guys, a lot of competitive individuals who aren't going to give in to a tough situation."

The match has given Romo as serious left clavicle fracture after linebacker Michael Boley landed on him. It was purely a hard hit and now foul play has ever happened. Cowboys were leading when the injury happened and the team even managed to stretch the lead after that. But then again the result didn't turn out good for the Cowboys this time. The result of the match takes out Romo and entire team out of 2010 NFL.

For those who placed their bet on NFL football especially for those having faith on the capacity of Giants to pull out victory amidst home court advantage of the Cowboys, they would been the happiest among the bettors now. Obviously, they were able to gain much. Most of the betting were picking up the Cowboys yet the Giants emerged to win.