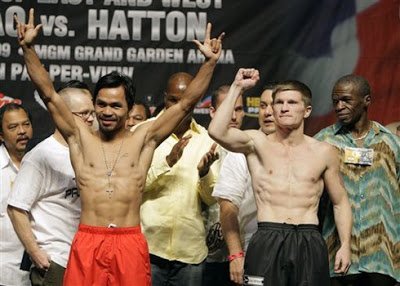 Pacquiao Vs Hatton Weigh-In Photos and Videos are now available for your viewing pleasure online. Here are some Pacquiao-Hatton Weigh-in Videos and Photos by Jehzlau. Thank you so much for sharing and posting it in your website.

For the meanwhile, the Pacquiao Vs Hatton Live Stream Online will be available tomorrow. There's only a few hours left for the fight to begin. So let's watch out in the MGM Grand Arena of who will be the next IBO Light-Welterweight Champion of the world. Will it be our very own Manny Pacquiao, or United Kingdom's Ricky "The Hitman" Hatton?

Enjoy the weigh-in photos and videos of Manny and Ricky! There are a lot of people during this event. But I bet, there will be more tomorrow as the fight begins!