Pacquiao Vs Cotto Results: The live stream is over and Pacquiao won against Cotto! Manny Pacquiao Won on Round 12 via TKO!. Pictures and Photos will be posted in a while.
The new WBO Welterweight Champion of the world is Manny Pacquiao! Below are some of the images taken from SopCast live stream by MMA TV.
Manny Pacquiao Vs Miguel Cotto Final Punchstats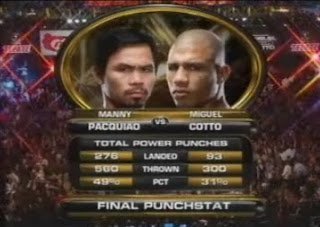 Miguel Cotto after being defeated by Pacquiao.
Manny Pacquiao Vs Miguel Cotto on Round 11.
Miguel Cotto Vs Manny Pacquiao on Round 12.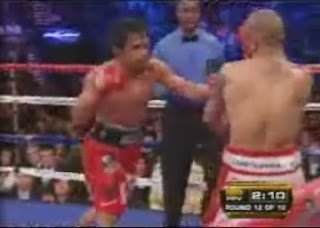 The Referee stopped the fight on Round 12.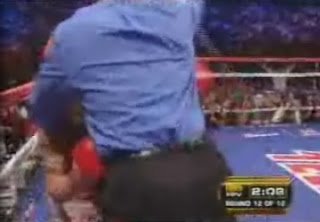 Excerpts of Manny Pacquiao post-fight interview:
"
Our plan and strategy for the fight is not to hurry. You know, take time. I'm trying to test his power. In the early round I'm trying to get his in the body and in the head. I'm looking for a knock out shot that's why I didn't throw a lot of punches. You know, in the last minute I gave a few punches. That's why I heard. I heard that he was bigger than me and was stronger than me. I tried my best to knock him out in the last round. I thought in the 11th round that they will stop the fight.
" - Manny Pacquiao
When asked of who will he fight next:
My job is to fight in the ring. I think it's my promoter's decision of who will I fight next. I want to spend time with my family as of now and I want to spend a vacation. It's a hard fight tonight, you know.
What do you think is going on in Manila and in the Philippines?
I think my Filipino fans are screaming today and they are very happy of my victory today. I want to thank you the Filipinos who came here today, specially the first gentleman and the Vice President. Thank you. Thank you to all!
Freddie Roach was also asked of who he wants for Pacquiao to fight next. Freddie Roach answered "Mayweather".
Check out our latest collection of
testking 642-426
resources prepared to help you pass real exam on time. Download the
testking 1z0-052
study guide and
testking 650-575
test demos to get guaranteed result in real exam.