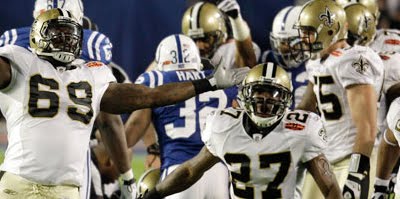 Super Bowl 2010 Results: New Orleans Saints Won! The Saints defeated the Colts in the 44th Super Bowl. This is the first time New Orleans Saints won in a Super Bowl Championship.
You guys are so unpredictable. In the first quarter, the Colts dominated the game and humiliated the Saints with a score of zero. But during the 2nd, 3rd, and 4th quarters, it seems like the Saints are now dominating the arena, they are invincible and the Colts can't even get closer to their superb prowess.
The final score is 31-17. The New Orleans Saints did one hell of a job and they won Super Bowl XLIV! Leading with 14 points, the Saints surely deserves to win this year's Super Bowl.
Once again, Congratulations to New Orleans Saints for a job well done and for winning Super Bowl 44.
We'll be back next year to live stream
Super Bowl 45 (XLV)
. Don't forget to bookmark Sports Live Blogger and come back here next year for
Super Bowl 2011
.
Thank you so much for watching the live stream, we hope you enjoyed your day and you enjoyed cheering for your favorite teams.
Congrats Saints!
And oh, if you want to view all the
Super Bowl 2010 Commercials and Ads
, check
this post out from Daily World Buzz
.
Here are some note-worthy records in Super Bowl XLIV:
1. New Orleans recorded the first onside kick attempt in a Super Bowl not during the fourth quarter.
2. New Orleans' place kicker Garrett Hartley became the first kicker in Super Bowl history to kick three field goals of 40 or more yards.
3. New Orleans quarterback Drew Brees had the second highest completion percentage in Super Bowl history (Phil Simms in Super Bowl XXI has the highest.)
4. This was the first Super Bowl played in Sun Life Stadium not to have a kickoff returned for a touchdown.