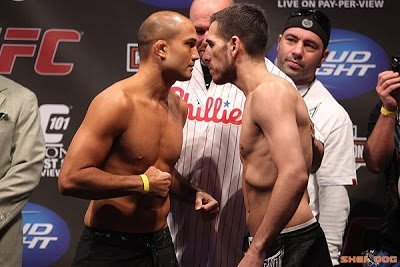 As usual, we'll be posting the UFC 101 Video Replays and Results after the UFC 101 Live Stream. So if you want to be the first to view the UFC 101 replay, just check this post after the match. We'll be uploading replays and we'll also embed some available videos if available.

The Ultimate Fighting Championship 101 will soon commence! 4 hours from now, the welterweight bout between Amir Sadollah and Johny Hendricks will begin. Followed by the lightweight bout between Josh Neer and Kurt Pellegrino. The next match after these two will be Kendall Grove and Ricardo Almeida (Middleweight).

After these 3 minor main card matches, the highlights will now begin. The light heavyweight match between Anderson Silva and Forrest Griffin will begin. And finally, after all these matches, the main event will hit the ring! B.J. Penn Vs Kenny Florian, fighting for the Lightweight belt! Will BJ Penn retain his belt? Or will Kenny Florian grab it from BJ? Let's find out after the UFC 101 Live Stream!

UFC 101 Results Summary: Main Fight Cards only, because I don't care about preliminary fight cards.
Lightweight Championship: BJ Penn vs Kenny Florian - BJ Penn Wins by Submission (Choke) at 3:54 in the 4th round by rear naked.
Light Heavyweight: Anderson Silva vs Forrest Griffin - Anderson Silva Wins by Knock Out at 3:23 in the 1st round.
Welterweight: Amir Sadollah vs Johny Hendricks - Johny Hendricks Wins by Technical Knock Out at 0:29 in the 1st round.
Middleweight: Kendall Grove vs Ricardo Almeida - Ricardo Almeida Wins by Unanimous Decision at 5:00 in the 3rd round.
Lightweight: Josh Neer vs Kurt Pellegrino - Kurt Pellegrino Wins by Unanimous Decision at 5:00 in the 3rd round.

UFC 101 Replay Videos: (FLV format only)
1. BJ Penn Vs Kenny Froilan UFC 101 Video [68.8MB]
2. Anderson Silva Vs Forrest Griffin UFC 101 Video [19.4MB]

If you can't wait and tired to download, the UFC 101 Silva Vs Griffin video is finally embedded here! Enjoy guys!