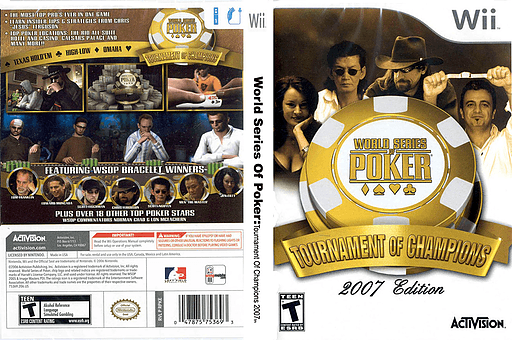 Many poker players love video games and vice versa, so in many ways, the marriage of a poker game with your favorite video game system or a
internet video poker
seems like a dream come true. If you own a Nintendo Wii, you may want to check out the World Series of Poker Tournament of Champions for the Wii.

Wii WSOP Tournament of Champions Poker
The World Series of Poker Tournament of Champions game was not designed exclusively for the Wii, so you won't get to take advantage of any of the Wii's motion control features when you play this game. What you will get to do is play the role of an up and coming poker star, starting out at your home game and working your way up to the championship table.

Playing Wii Tournament of Champions Poker
You can create and customize your own avatar in the game just like playing USA online casinos, allowing you the sensation of playing side-by-side with real poker superstars. The competition isn't always the best, but you'll still have to work to figure out how each of your opponents play and how you can take advantage of it with well-timed raises, folds and bluffs.

The first celebrity player you meet is Chris "Jesus" Ferguson, who is something of a mentor in the game. Other well-known players you will face include Scotty Nguyen, Phil Laak, Jennifer Tilly, Antonio Esfandiari and several more. You'll get to select from different c asinos and tournaments in your quest to make the final table at the World Series of Poker at the Rio in Las Vegas.

Winning Wii Tournament of Champions Poker
While your reward for making it to the top of the Wii poker heap is no more than the satisfaction of a job well done, you won't lose this month's rent playing Wii poker either. It's a good opportunity for you to have fun playing poker in the context of a video game where you are working towards a specific goal. If you don't have a group of friends to play poker with when you're in the mood to play, or simply if you have some time to kill, Wii poker Tournament of Champions can be an appealing option.