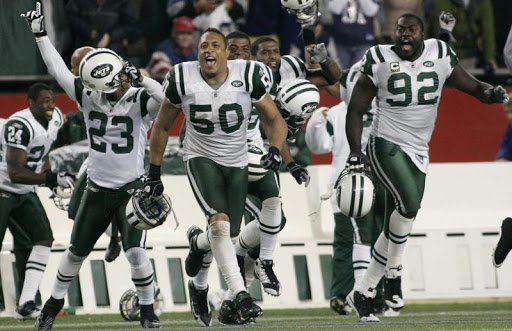 Yesterday's Divisional Playoffs was so thrilling and heart-pounding. The Patriots are out! Will the Jets now be favored as this year's Super Bowl champions? The
New York Jets stunned Indianapolis Colts
in the Wildcard Match-up. After a week, they defeated the most
favored team
to win this year's Super Bowl, the
New England Patriots
.

I bet Bill Belichick is so frustrated after they were defeated by the Jets. The New York Jets really did their best and showed everyone that they don't suck. The final score in the Jets vs Patriots yesterday is 28-21. That's a huge lead for the Jets

The star players of yesterday's match are Sanchez and Brady. Mark Sanchez threw three touchdown passes while Tom Brady was pressured heavily and sacked five times. Sanchez completed 16 of 25 passes for 194 yards. While Brady went 29 for 45 for 299 yards.

Omar Mercado of the Sports Newscaster reported that at halftime before Brady's 2-yard touchdown pass to Alge Crumpler and Sammy Morris' run for a two-point conversion made it 14-11 late in the third quarter, the Jets led its fierce rival with a score of 14-3.

Before the game ended, Sanchez came right back with a 7-yard scoring pass to Santonio Holmes, and the Jets and finished the upset with Shonn Greene's 16-yard touchdown run.

The game ended yesterday and the Jets won! The Patriots lost their third straight postseason game. The Jets will face the Steelers for the AFC championship! If the Jets will win this 23rd of January, they will face the NFC champs (it's either the Bears or the Packers) this February 6, 2011 for the Super Bowl XLVI.

The most awaited Super Bowl 2011 live stream will soon begin! I bet everybody's waiting for it! See you on the 6th day of February guys and let's all together witness biggest game this 2011!